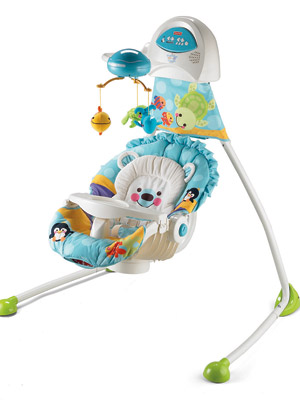 We bought this swing for our daughter when she was about a month old because she was having trouble taking long naps without waking up. The motion of the cradle setting lulled her to sleep and kept her there. I credit this swing fully for her early full-night sleep (2 months). She would not stay asleep when I left her in her crib, but the swing's rocking motion is extremely comforting to her and she feels much safer and relaxed in its embrace than she ever did in her crib. I highly recommend this swing to anyone looking for a cheaper, yet well constructed papasan-style swing.
As far as design goes, this swing has very few flaws. The cradle itself is large enough to accomodate larger infants, but has an insert included which allows for the safety and comfort of smaller babies as well. It has two swing settings, traditional swing and cradle, that can be set on 5 different speed settings depending on your infants preferences. There are also two different music settings that can be volume adjusted to meet your needs.
It can be battery operated, but it comes with an AC adapter that saves a lot of battery life (not to mention money). My husband and I use the AC setting exclusively to cut down on our battery expenses. We use it all night to keep our daughter asleep and I have not seen a slow-down in the swing's power or ability to utilize the electricity that it pulls.
The swing is small enough to fit in my daughter's small room along with her other furniture, but large enough to provide stability and safety. It has an adjustable base which provides options when it comes to the placement of the swing.
The colors of the design are bright and vibrant, much more so than I expected them to be. They are vivid and definitely easy for the infants to see. I appreciate FIsher-Price's attention to detail when it came to the artistic design that was used for this swing. The animals are cute!
There are a few downsides that do not inhibit the swing itself, but are minor annoyances. There is a small included mobile that in itself is alright, but the plastic figurines will hit each other as the swing moves, causing a clicking/clacking noise that sets off our baby monitor, waking me up at night. My husband had to tie two of them together to stop them from hitting. It was an easy fix, and it wouldn't necessarily matter unless you are an extremely light sleeper like I am. The covering for the seat is a little bit difficult for me to remove, although my husband doesn't seem to have the same trouble that I do. If the cover needs to be removed to be washed, it is a bit difficult to get off over the curves of the seat, but it is do-able and wouldn't be too hard if you were a little bit stronger than I am.
Young Mom's Deals was not compensated for her review and her opinions are merely her own.